Polyurethane Foam for Concrete Lifting
Concrete Lifting Solutions With Polyurethane Foam
Over time, even the seemingly strongest of materials break down. Without proper support, concrete will break down and create trip hazards, drainage issues, and even drag down property values. Whether you're a concrete contractor looking for the best material to fix a client's driveways and walkways or you're a developer looking to make your neighborhood last for the long term, our polyurethane foam offers the best solution for lifting and supporting concrete.
There are a lot of advantages to choosing polyurethane foam for your business ventures when it comes to lifting concrete. Concrete lifts and new driveway and walkway installations are better suited for handling the wear and tear they're bound to see because of the unique chemical makeup of polyurethane. Our products offer strength and durability that's unmatched by other compounds.
What Makes Polyurethane Foam Better for Concrete Lifting?
Polyurethane foam is a superior concrete lifting solution all around. Relatively new, it's a much more advanced version of concrete support and repair than the traditional ways such as mudjacking. Polyurethane foam is stronger, lighter, easier to install, and less noticeable than the competition.
Polyurethane foam is a real solution to sinking concrete, unlike the traditional fill of slurry that's used for "mudjacking." Lifting concrete with polyurethane foam has come to be known as "polyjacking" around the concrete contracting industry. Slurry lifts don't last as long as polyurethane and they may even increase your risk of sinking concrete in the future.
Slurry, a mixture of water, dirt, and cement, is heavy and loses its density over time as the bonds of the solution break down. This means the material breaks down and loses the strength necessary to hold up concrete. Polyurethane foam, on the other hand, will hold up long after its installers have gone. The durable chemical makeup of the polyurethane makes it nearly impenetrable to the elements.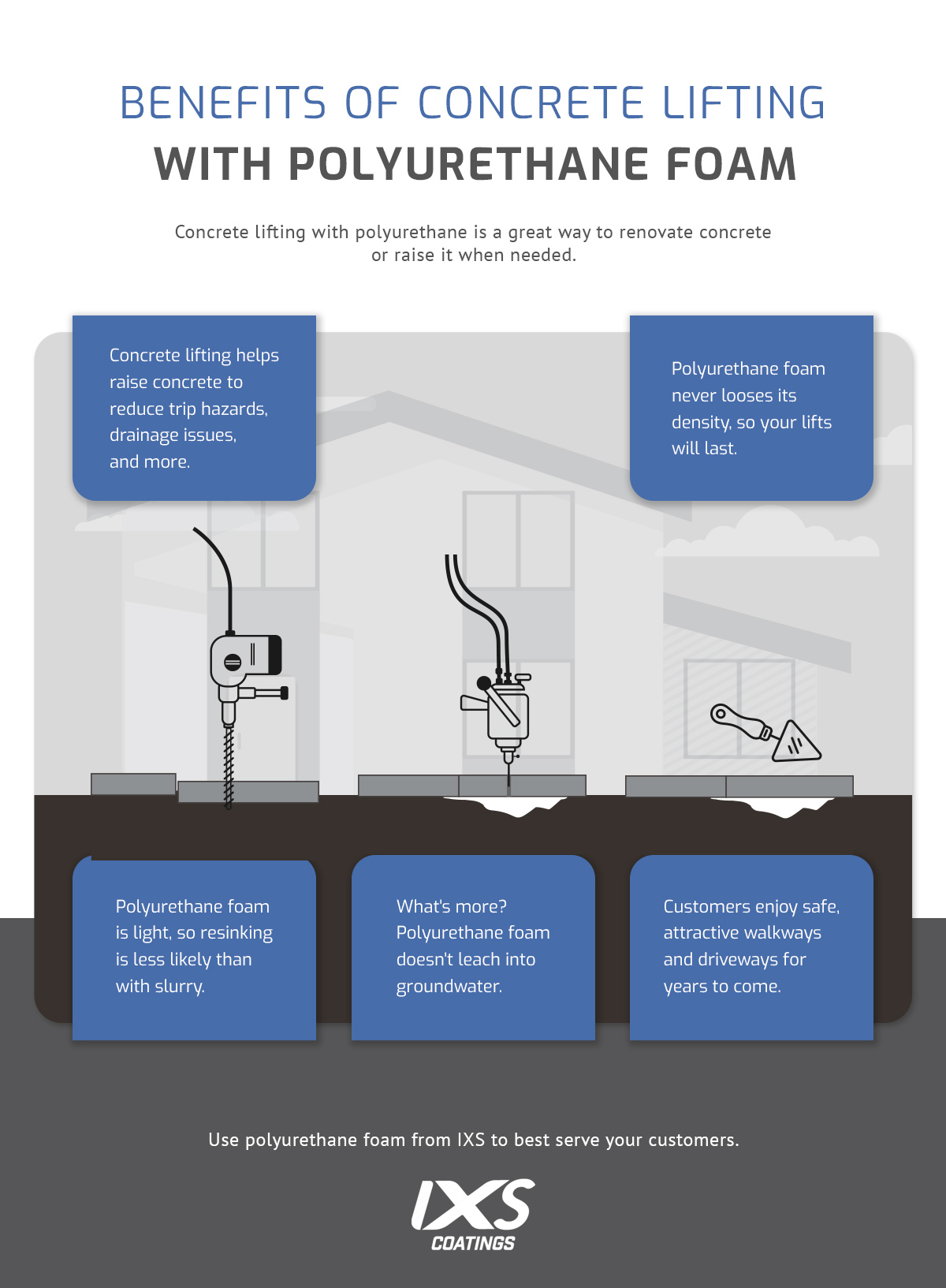 While being stronger and more durable than the slurry, it's also more lightweight. This may not seem important at first, but the soil sinking underneath your concrete helps create the opportunity for the concrete to sink. When slurry breaks down, it can become little more than extra weight on your soil and a new break in the concrete could occur. The concrete may sink lower than it did when it originally needed lifting.
On top of all that, if you're a contractor doing concrete repair work, polyurethane foam is simply the more attractive option in terms of aesthetics as well. Mudjacking uses a thicker material than polyjacking, so it requires drilling more, larger holes into the concrete. Since the slurry you use will dry to a different color than the concrete, you will have noticeable round spots left on your concrete from the repairs. Polyurethane foam goes into fewer, smaller holes, so your concrete's finish will look almost like new.
Really, aside from the costs, which will be won back in reputation, avoiding small claims court over failed or incomplete installations, the pride you take in your work, and the costs you pass on to your customers, there's no reason that polyurethane shouldn't be your first choice for concrete lifting.
Choose IXS as Your Polyurethane Foam Supplier
If you're looking for a new solution to concrete lifting, then polyurethane foam is the answer. Contact IXS today to get your hands on the strongest compound for raising and supporting concrete and cement your place as the top concrete contractor, renovator, or repair company in your area.