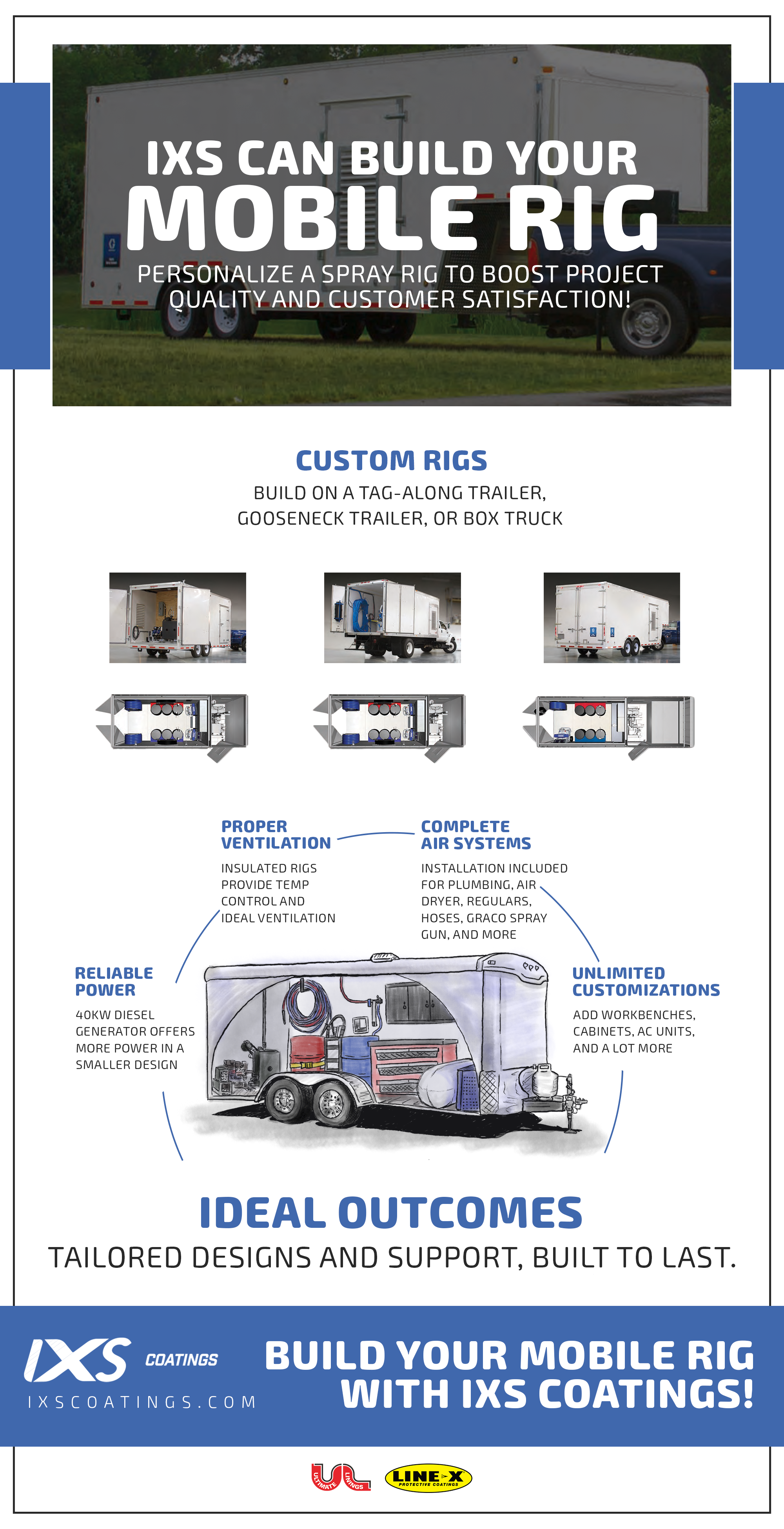 IXS Coatings is here to provide customized mobile rigs and design services to help contractors get the job done right in a transportable, cost-effective manner. Our company was born after LINE-X Protective Coatings and Ultimate Linings combined, delivering industry-leading polyurea coatings and polyurethane foams to address a wide range of industries.
If you're in need of a mobile spray foam rig for your box truck, gooseneck trailer, or standard tow-along trailer, IXS Coatings knows how to deliver lasting value and convenience. We'll help create the ideal work space for you to get the job done.
Customize Your Rig
From generators and compressors to hoses, proportioners, air dryers, barrel holders, and spray guns, we have the right equipment to fit every rig. Maximize your space and rely on a system designed to deliver lasting value.
Create your mobile shore-powered spray foam rig, concrete lifting and insulation trailer, roofing equipment trailer, or foam and polyurea rig to improve all of your professional services. Is now the time to expand your polyurea coating or polyurethane foam services? Rely on IXS Coatings to help you engineer the right tools for the job, including our equipment and materials. We aim to make your jobs safer, more efficient,and more profitable.
Customized Mobile Rig Systems
If your application requires on-site, spray-on polyurea coatings or polyurethane foam solutions, we've got you covered—with our fully customizable mobile rig systems. From pipelines and mine sites to marinas and bridges, IXS Coatings helps you protect your most valuable assets where they sit.
After learning about your project specifications and needs, our expert technicians will fabricate the ideal mobile unit to meet them. For industry-leading, high-quality solutions anytime — and anywhere — let the seasoned professionals at IXS Coatings be your guide.
Contact Us Today
No matter your professional needs, IXS Coatings is here to provide expertise and ongoing support to ensure you get the most out of your mobile rig. Contact us online or fill out the form below to get started. We look forward to working with you!