INFRASTRUCTURE & MUNICIPALITY SOLUTIONS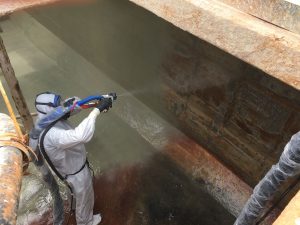 $2.5 trillion. That's the estimated cost of all corrosion in 2016, according to NACE International. In water treatment facilities, on roads and bridges, or in other components of hard infrastructure, the impact of chemical and atmospheric corrosion is swift and expensive. Keep these vital systems in safe and working order for far longer with polyurea and polyurethane solutions from IXS Coatings. As a proud member of the Polyurea Development Association (PDA), we have the solutions you need—from prevention and protection to containment and restoration.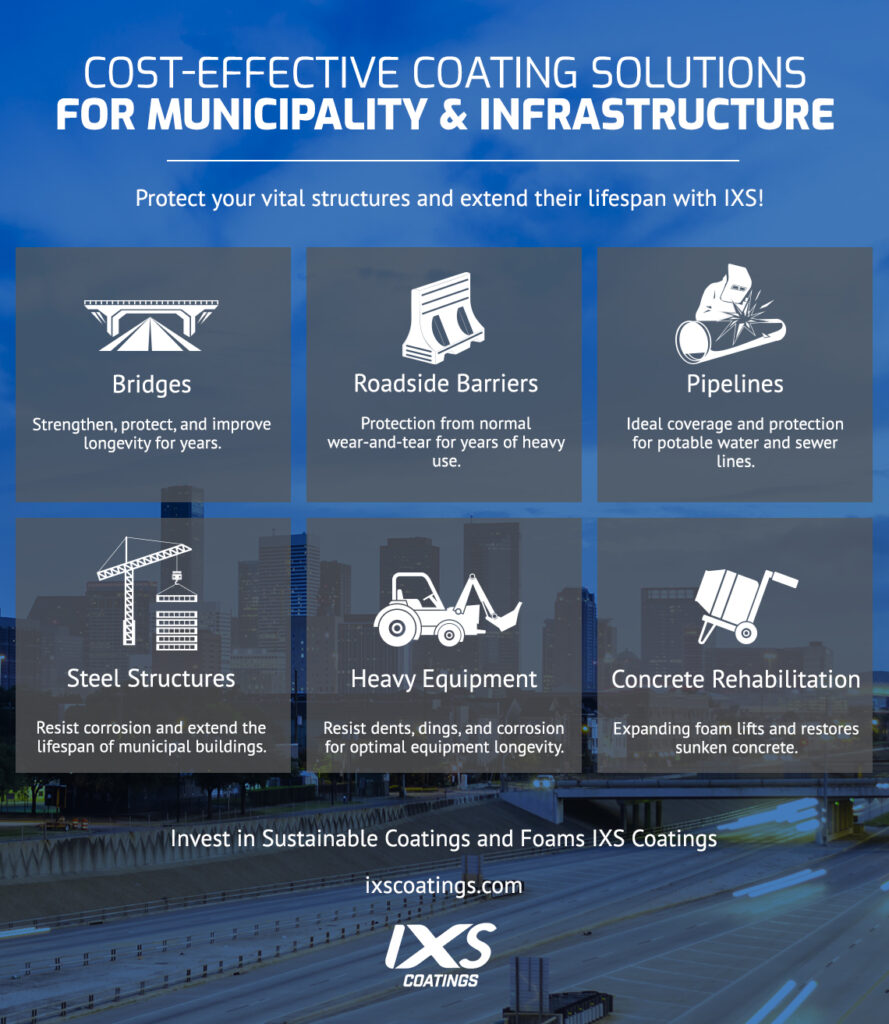 ---
INDUSTRIAL WATER SOLUTIONS FOR INFRASTRUCTURE & MUNICIPALITY
Municipal water pipes and tanks are especially prone to corrosion. Wastewater, alkalies, and other hazardous chemicals can cause this crucial equipment to wear out—greatly increasing the risk of drinking water or groundwater contamination. Spraying with an IXS coating serves as water protection, and by extension–water conservation–, with an IXS coating you're protecting your city's water supply and your reputation.
Protect important infrastructure and municipal assets—and the environment—with ANSI/NSF 61 potable-water certified, spray-on polyurea coatings from IXS Coatings, a proud member of the American Water Works Association (AWWA). Our solutions are certified for incidental food contact, fungus resistance, and safe walking surfaces. And with fast-curing properties, our protective coatings minimize facility downtime, assuring little to no downtime in the operations of a municipal water supply.
Waste Water Containment: Our environmentally safe, non-permeable polyurea coatings have high pH resistance—giving wastewater pipes and tanks a whole new level of strength from a product that won't leech into your water supply. Plus, with a wide range of fast-curing, customized industrial water solutions, our experts have the answer to almost any wastewater containment problem and can help ensure that less money is spent on water treatment systems.
Water Treatment: When it comes to potable water, nothing is more important than safety. At IXS Coatings, our innovative chemical formulations were one of the first to be potable-water-approved by the National Sanitation Foundation (NSF). Not only will our polyurea coatings extend the life of water pipes and tanks, they'll also keep drinking water contaminant-free.
---
INFRASTRUCTURE & MUNICIPALITY GEOTECHNICAL SOLUTIONS
Over time, the ground moves and shifts—taking structural foundations, manholes, sidewalks, and other infrastructure along with it. Restore and reinforce the integrity of your civic infrastructure with cost-effective geotechnical solutions from IXS Coatings. Our fast-curing polyurethane spray foams and polyurea coatings provide robust support for almost any geotechnical problem. If you're not sure which spray foam or coating is right for you, our experts are standing by to help you find the ideal customized solution.
Manhole Restoration: Hydrogen sulfide in the groundwater can corrode the walls of manholes, breaking down concrete and rendering your manholes suddenly unstable—and unsafe. Reinforce stability and protect from future corrosion with long-lasting, elastomeric polyurea coating solutions from IXS Coatings. Our polyurea coatings are easily applied and rapid-curing—helping to minimize cost and ease the flow of traffic. We're here to help you find the ideal solution for your manhole restoration projects.
Concrete Rehabilitation: Not only are uneven concrete slabs on roadways and sidewalks costly and time-consuming to repair—but they also create a hazard for travelers, opening up the municipality and its managers to possible legal action.
Our geotechnical polyurethane foam allows you to raise, stabilize, and support uneven concrete slabs with greater speed and efficiency than traditional mudjacking. Because geotechnical polyurethane foam expands and solidifies in seconds, you can avoid over-spraying—and retain better control over the precision of your repairs. As a member of the Spray Polyurethane Foam Alliance (SPFA), IXS Coatings offers a full range of durable, high-strength geotechnical polyurethane foam solutions. Let our experts develop the ideal solution for you.
---
INFRASTRUCTURE BRIDGES & ROADS
Corrosion doesn't just damage the concrete surface of roads and bridges; it also weakens their steel support structures—leading to cracked, unstable, and unsafe surfaces, sometimes even exposing the rusted rebar within. Stop this corrosive damage from starting with seamless, moisture-resistant polyurea protective coating systems from IXS Coatings. With 55 years of experience and hundreds of products, we'll find the ideal solution for your bridges, roads, and other infrastructure.
Concrete Corrosion Prevention: Polyurea coating systems protect your concrete surfaces from the harshest elements—including extreme weather conditions, inorganic bases, acids, and alkalis, and abrasion from heavy traffic. With industry-leading temperature flexibility and tensile strength, IXS Coatings' advanced chemical compositions provide a long-lasting, elastomeric barrier between your concrete surfaces and the environment. If you need an answer for concrete corrosion, we'll help you find it.
IXS Coatings' polyurea coatings are proven to prevent corrosion and deterioration—upholding the integrity of your bridges and roads. See our solutions in action.