Foundation Waterproofing Coatings For Construction
A solid foundation is one of the most important qualities of a home, as it literally holds the house up. Failing to properly seal and reinforce the foundation of your new build could cause it to take on water damage and break down years before it otherwise would. Concrete, wood, and other materials that commonly make up foundations are almost all susceptible to the elements. If you don't use polyurea protective coatings around your foundation, then you run the risk of your building collapsing and putting occupants in danger. With properly applied polyurea coatings from IXS Coatings, you'll have peace of mind with every foundation you spray.
One of the reasons that you see many relatively new homes faltering to the point of collapse is because they weren't properly sealed in the first place. When you pair unsealed foundations with a high-moisture environment, the result is a rapidly decaying foundation. In the past excuses could be made, we didn't know as much as we do now and resources like polyurea coating weren't as well known or utilized. For general contractors working in today's day and age, there are few excuses for not using a protective coating during foundation installation or repair. IXS Coatings is here as a provider of polyurea coatings to help you take care of the job.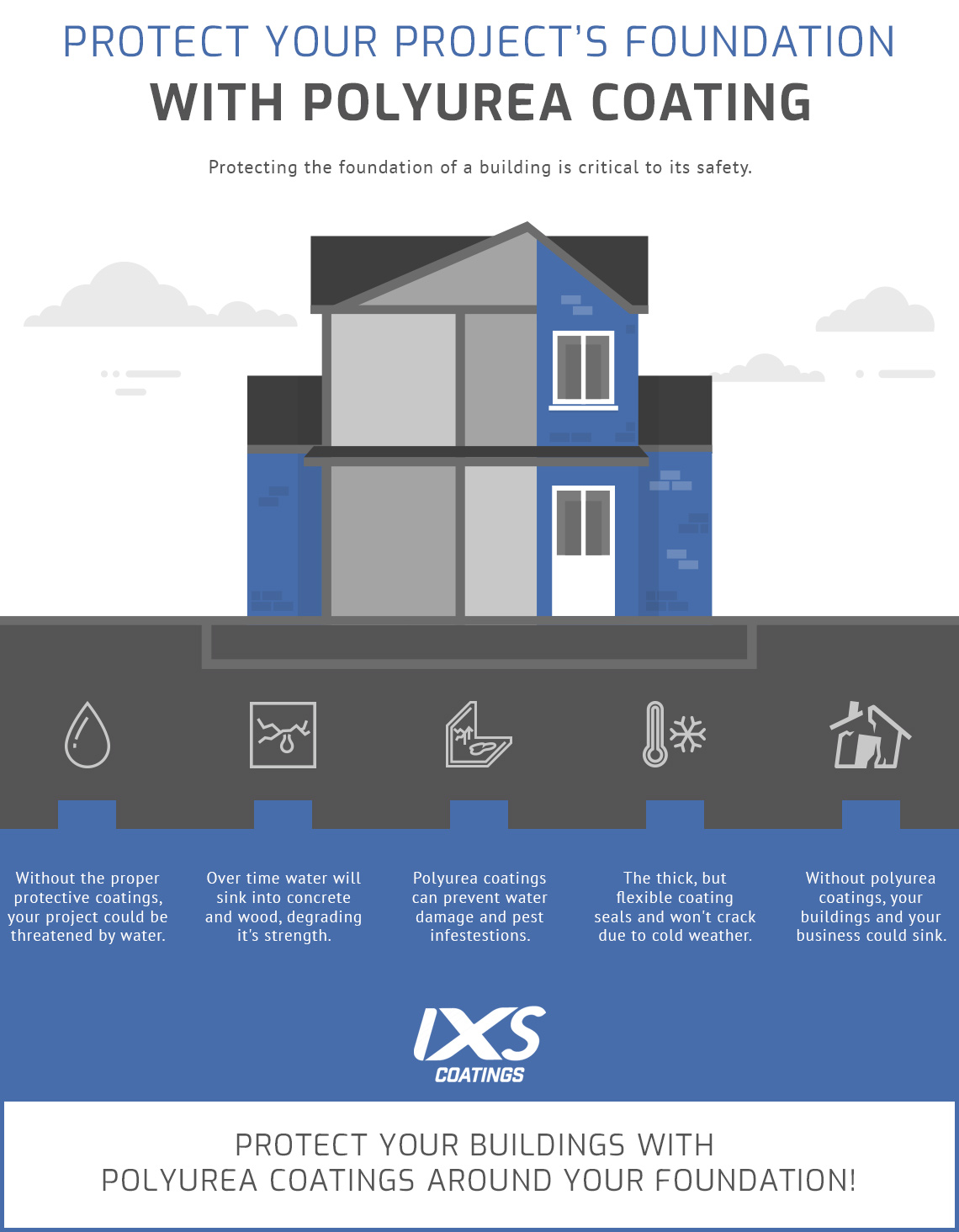 Waterproofing Your Foundation on New Builds
Repairing another contractor's work is a low-pressure job — someone else already screwed up, and you're just trying to make it better. However, being a new-build commercial or residential contractor means that there's a little less breathing room, and a faulty foundation showing up in a building just a few years down the road could be devastating to the long-term reputation of your business. Aside from constructing the foundation properly, sealing it may be the most important thing you can do for the structural integrity of the new home or business.
Water coming into your foundation is a threat for a number of reasons, the most critical being that moisture can build up in the concrete. This slowly erodes the bonds between the cement and the rest of the particulates that give the concrete its strength. Unless your project stands at the top of a hill in a place with almost zero humidity, then it will likely come into contact with large amounts of moisture at some point. Most unprotected foundations will slowly soak up the moisture around them, often causing the foundation to begin crumbling before anyone even notices.
Even if you don't see structural damage, it may be lurking behind the scenes. The first sign of a home or business with an improperly sealed foundation may come in the form of a health concern. Some homeowners may see mold creeping into their basement or first floor, and an inspection could reveal that the foundation is the source of the mold. If you didn't properly waterproof and seal the foundation, then you may not only be on the hook for any repairs that the home or business owner may need, but any health-related costs as well.
Any contractor worth their title knows that a well-built foundation should stand up for years to come. Once you've put in the time, labor, and brainpower that it takes to design a strong foundation, then you can make sure it doesn't go to waste with our specialized foundation coatings. We're confident that our coatings will help make sure your foundations stand up to any of the damage that water could cause.
Waterproofing for Cracked Foundation Repair
A few decades ago, using polyurea coatings to waterproof foundations, basements, and pools wasn't necessarily commonplace. This means there are tons of opportunities for general contractors, pool installers, and mold remediation specialists to find work in these repairs. You'll be expanding your arsenal of services when you offer polyurea coatings for waterproofing, and your customers will be thrilled to find that they don't have to lose their home, pool, or basement because of a cracked foundation.
Make IXS Coatings Your Spray-On Waterproof Coating Provider
If you're working in the industry of general home contracting, home renovation and repair, or pool installation, then you have plenty of reasons to take on IXS Coatings as your provider of polyurea protective coatings. We make polyurea and polyurethane products for a variety of businesses across the world, and they're used in everything from vehicle protection to body armor! With us, you get a durable, proven product that will hold up long after the job is done. Contact us today for all your foundation coating needs!