Ultimate Linings Announces the Appointment of Rusty Carter as President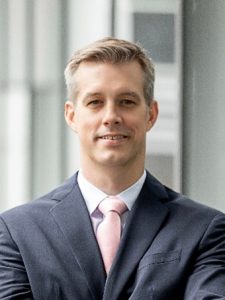 Chemical veteran joins the company for next chapter of accelerating growth.
LEBANON, Tennessee, March 20, 2023 – Ultimate Linings, a division of IXS Coatings and a leading provider of premium, long-lasting polyurea coatings, today announced the appointment of Rusty Carter as President.  Carter brings deep industry knowledge, strong commercial acumen, and leadership experience to Ultimate Linings to further scale the company in its next phase of growth.
Carter is an experienced builder of chemical businesses.  He was Business Unit Leader for Chemtrade Logistics over their Ultrapure Acid and P2S5 businesses. He has held other commercial, product development and management, and research roles of increasing responsibility in companies including Ascend Performance Materials, Invista, and Solutia.  In addition to electronic grade sulfuric acid and P2S5 development, he's led the product and technology development and commercialization of products in the polymer, fibers, and textile spaces.
As an industry leader with superior quality, application technology, and technical support, Ultimate Linings now completes its $100 million vertical integration and build-out of its world-class Polyurea Innovation Center in Lebanon, Tennessee, with a proven commercial leader who can use this foundation to establish Ultimate Linings as the undisputed Polyurea leader in the industry.
"The completion of the greenfield expansion into a state-of-the-art innovation and manufacturing center marks the largest investment since our acquisition of Ultimate Linings in 2017." said founder and CEO of IXS Coatings, Jim Scott.  "This, combined with our investment in top industry talent like Rusty, I'm very excited about the value and opportunity we are staged to bring to our customers, associates, and investors.  I'm delighted to welcome Rusty to our team and am excited to support him in unlocking the full value creation opportunity at Ultimate Linings", Scott continued.
About Ultimate Linings:
Ultimate Linings, a division of IXS Coatings, is a world-leading manufacturer of polyurea coatings that are easy to clean and maintain, have consistent, long-lasting results and strong waterproofing capabilities, offer excellent chemical resistance, are environmentally friendly, and with multiple methods of applying and rapid curing.  The Ultimate Linings team has decades of experience helping your business develop applications specific to your company's needs, including spray equipment, mobile rigs, and robotic integration.  The Ultimate Linings coating portfolio is backed by a state-of-the-art innovation center and laboratory dedicated to cutting-edge polyurea research and development and superior application technology.  We offer best-in-class, 24/7 technical support, complete system analysis, on-site installations, and on-site support, depending on your level of coating experience.  We have helped thousands of companies set up the correct application.  We work across multiple industries improving our customers' products and extending their equipment investment life.  The transformational changes we are undertaking, combined with our industry-leading and proprietary formulations, position us to be the undisputed leader in polyurea technology, manufacturing, and technical field service and support.
Please visit us at www.ultimatelinings.com to learn more.
---
Team Up With IXS Coatings
No matter the size or scope of your fleet needs, our proven materials and personalized applications can prove to be worth your time. Let IXS Coatings know what your trailers need to maximize on-road performance, and we'll provide a case as to how we can help you optimize your transport rigs to haul vital cargo.
Ready to see how we can help your equipment go further and save you more? Contact us online for an ideal coating solution!