Polyurethane Roofing and Polyurea Coating Repair
When it comes to roofing, replacing and repairing them can be major projects and the contractors responsible for faulty roof could experience serious blows to their reputation. If you are a roofing installation or new-build contractor, then you should go years, maybe even decades, without hearing about one of your roofs tearing off.
With spray-on polyurethane foam and polyurea protective coatings, your new roof installations or repairs will last for years. Our products offer a unique and unmatched level of protection for the homes they cover. With our products, all of your homes will be protected against the elements and provide the efficiency that your customers want in their home.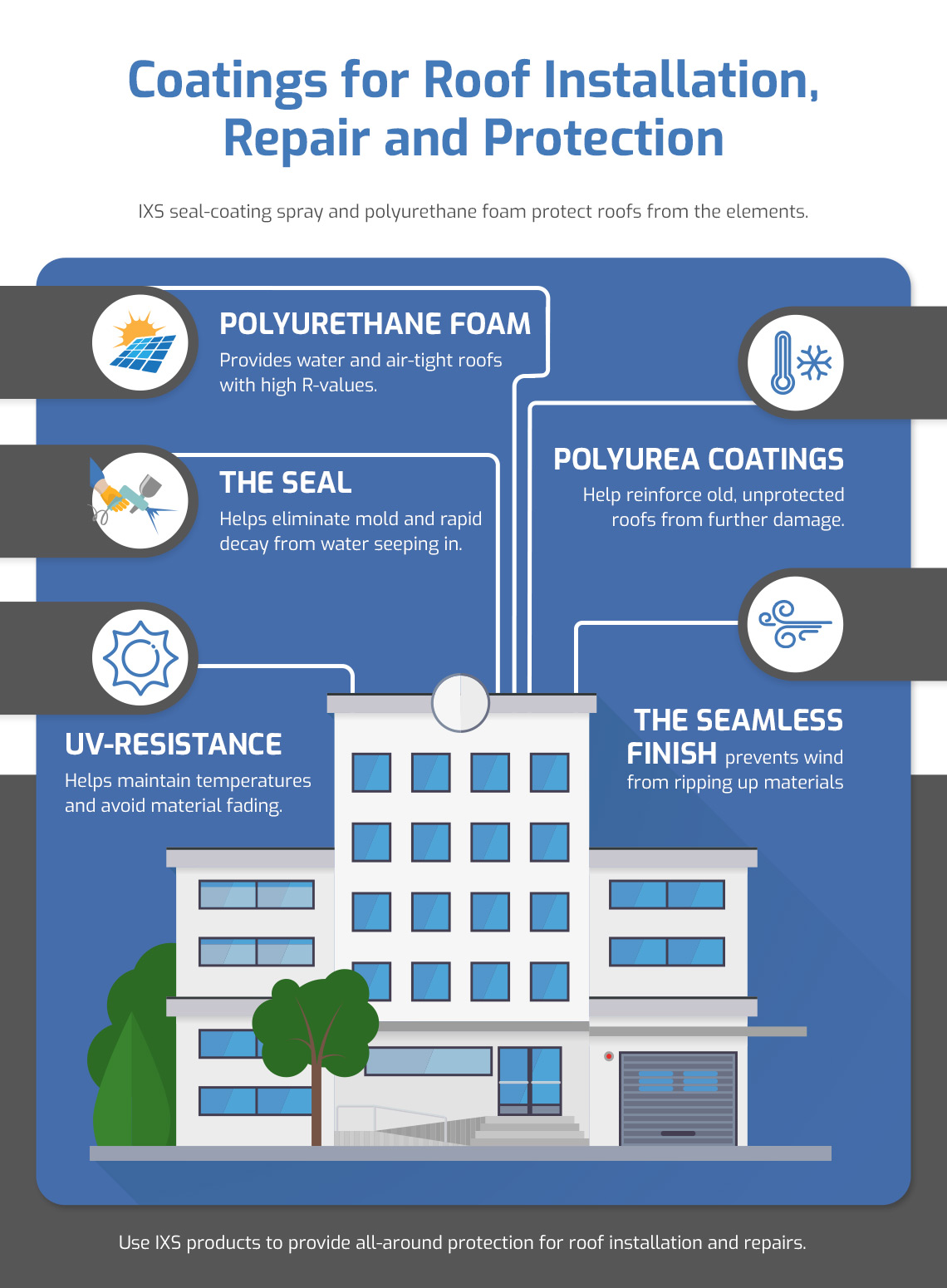 What Do Polyurethane and Polyurea Products Offer?
What all of our products offer, above all else, is protection. Whether you're installing an industrial roof with spray-on polyurethane to cover the entire structure or you're just looking to reinforce a shingled roof, our products offer protection from the elements and sheer force, as well as extra insulation for your building.
Polyurea Spray-On Roof Coatings
If you're working on an older home or business's roof, then chances are that you'll encounter a roof without polyurea protective coating on it. Despite being around for just over 50 years, many homes and businesses are still lacking a protective coating to help protect their roof from wind, rain, mold, insects, and more. The opportunity to repair them properly awaits roofers with the initiative to make it happen. Here's how our coatings can help repair existing roofs or reinforcing newer roofs that aren't made of polyurethane:
Roof Sealing — Sealing your roof may not sound like the highest priority, but it's one that completely transforms its level of security. Any roofing with exposed seams is vulnerable to damage from wind and rain. First, there may be some minor cosmetic signs that your roofing isn't well protected, like fading, but then parts of the roof will likely crack, tear, or come off altogether. With polyurea coatings, you can make sure that water never seeps into your shingles, that wind never gets under them and rips them apart, and that no unwanted mold or pest infestations never get in through the surface of your roof.
On top of providing protection for the stability of your roof, our polyurea, spray-on roof coatings  help protect the aesthetics of your roof by holding it together and providing UV protection. This helps to keep materials from fading, so not only will your new roofing installation or roofing repair be strong in structure, but it will provide a positive impact on curb appeal and property values as well!
Spray-On Polyurea Foam Roofing Installation
If you're a contractor working on a large industrial building, school, government building, or another large facility, then your clients are probably looking for the most energy-efficient solutions to their roofing needs. That's exactly what you get with SPF roof installations. By using our polyurethane spray-on foam roofing material, your building gets a thick coat of insulation that doubles as a roof. 
With a high R-value and a seamless finish to every properly applied SPF roof, your commercial or government clients will receive a roof complete with energy efficiency and the strength to stand up against wind, rain, and anything else nature can throw at it!
Choose IXS Coatings For SPF Roofing and Coatings
When you're looking for your provider of polyurea and polyurethane products, then choose IXS Coatings, one of the leading suppliers of polyurethane products in the world. Contact us today for more details!