Protective Coatings For Decks
What Is Polyurea and How Does It Work?
Polyurea coatings are made from two highly reactive components that combine to form the elasticized protective coating. These coatings come in a large variety, but the basic chemical makeup of each remains the same. An isocyanate, or in certain cases a diisocyanate, combines with a synthetic resin polymer and polymerization occurs to form the protective coating.
The chemical reaction that occurs, polymerization, forms long chains and where they meet, groups of urea are clustered together, hence the name polyurea. The structure of the chain is responsible for the qualities of polyurea. It's hard because it is essentially a tangled web of smaller molecular chains, however, these chains are also flexible, helping the coating to essentially deflect forceful energy rather than absorb it.
In layman's terms, this all comes together to give contractors, home builders, and homeowners protective coatings that protect themselves and whatever they're wrapped around. The coating is essentially indestructible without cutting through it. Rocks, debris, and foot traffic are no match for polyurea because they deflect the force. Some people like to refer to their coatings as shields, extending that metaphor, a polyurea coating would be like a shield that blows their opponent back whenever they try to strike.
What Advantages Do Polyurea Protective Coatings Offer?
Aside from protecting your deck from abrasions, polyurea has a host of other benefits that it can serve to your customer's decks. Over years of enjoying nights out on your deck and having company over for parties, the wood is going to wear down and unfortunately, paint and primer aren't much of a barrier. If you really want to protect your brand and wooden decks for years to come, then you should be considering polyurea protective coatings for all your deck installations.
The biggest threat to decks is moisture. As moisture gets into the wood, it causes it to rot and decay. Not only does wood slowly flake away as it takes in moisture, drys, and then starts the whole process over, but it can cause mold and mildew to form, as well as invite in insects that will speed up the decay of your wood as they eat away at it for sustenance and to make themselves at home.
Once the deck reaches a certain point of decay, there's no going back. Luckily, you can apply polyurea coatings so your customers don't have to worry about refinishing, resurfacing, or rebuilding their deck altogether. 
By creating a waterproof membrane, sealers make it virtually impossible for water to enter into the wood. This is true of a number of sealants, however, the extra benefits of the polyurea coatings for your deck go back to the flexibility offered by the coating. When wood contracts and expands repeatedly through the seasons, other coatings crack and fault, but a polyurea coating expands and contracts with the wood. This way, you'll always know that your customer's seal will stay intact long after you're gone.
Finally, one of the slyest benefits offered by polyurea coatings is protection from UV rays. While most decks and their colors will fade over time, a deck with polyurea coating will be much less likely to, since the coating deflects these rays much as they would the force from a falling object.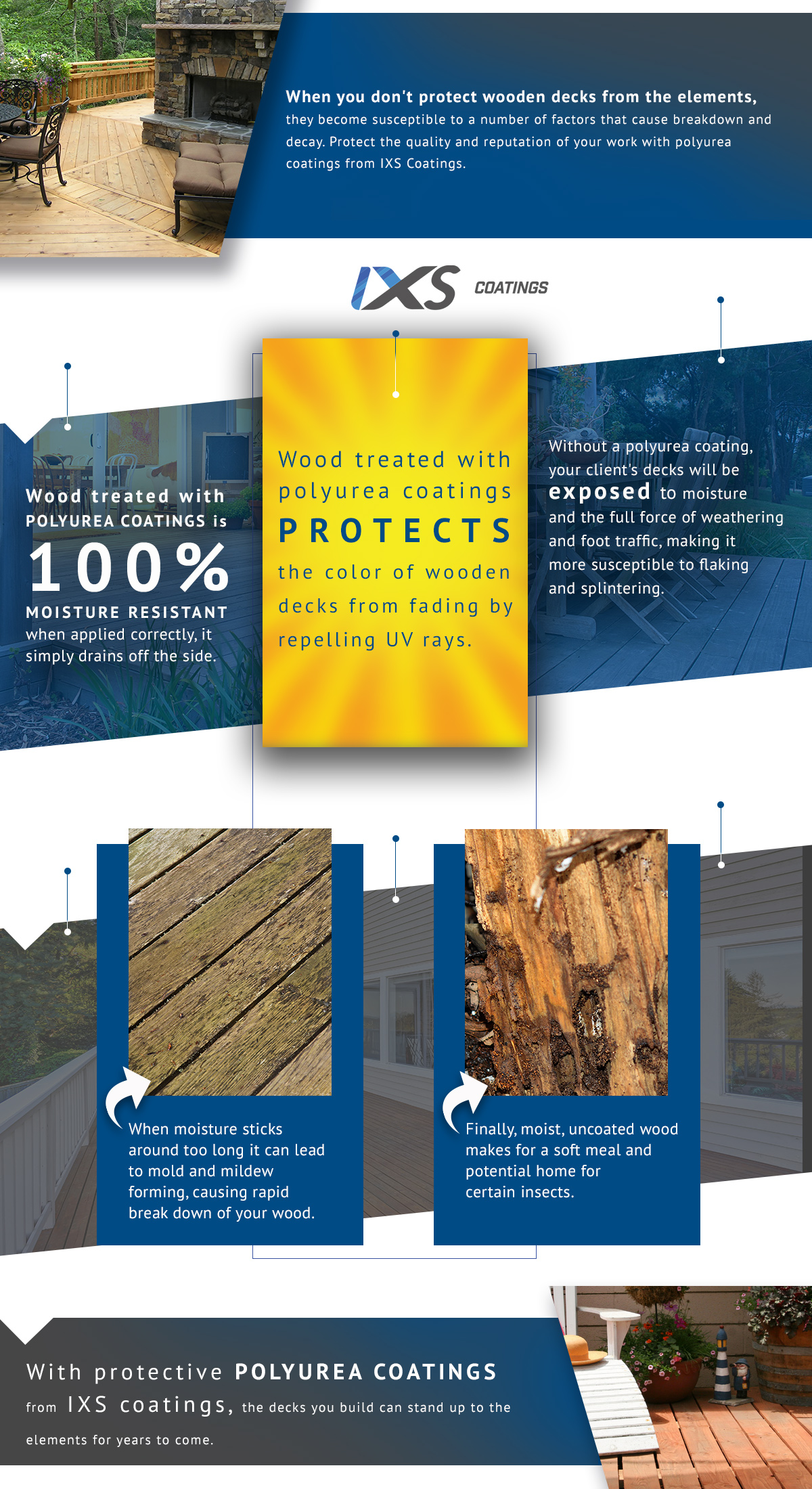 Other Things to Know About Polyurea Deck Sealants
Stands up to foot traffic within minutes

Highly resistant to most chemicals, meaning it won't break down with simple cleaning applications

Can be applied horizontally or vertically because of the fast drying time

Can be applied in cold or hot temperatures
Use IXS Coatings For Your Business
If you care about your reputation and the quality of your products, then there's really no other choice than the polyurea applications available from IXS Coatings. With a company that manufactures LINE-X and polyurea coatings for military applications, you can be sure that your customers are getting the best, most durable coatings.